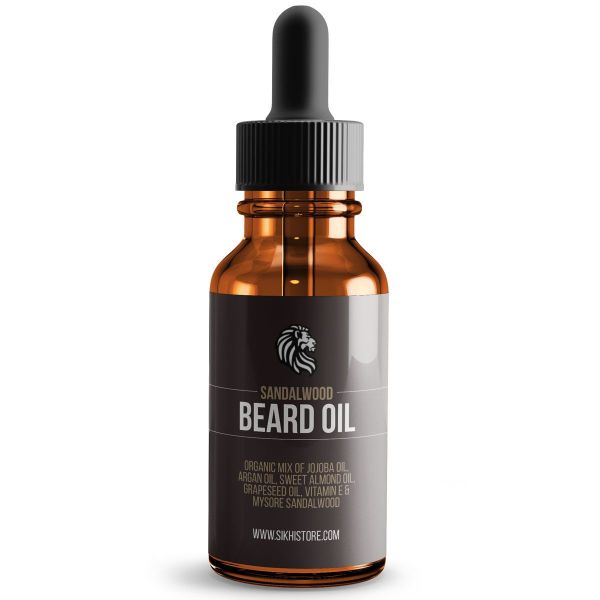 Gift Boxed Organic Beard Oil – Sandalwood
From £9.95
Description
Additional information
Reviews (0)
Description
Handcrafted and blended to perfection, SikhiStore Sandalwood Organic Beard Oil has a great warm & rich scent and will condition and soften both your skin and hair, leaving a luxurious feel. Unpack the black gift box it comes packed in and you'll find yourself a beard oil made using the finest organic ingredients available. Using the built in dropper, get around 5 drops into your palm and massage gently into damp beard and skin, your beard will be left looking and feeling it's best!
Made using special mix of:
Organic Jojoba Oil: Jojoba is actually a liquid wax renowned for it's close resemblance to natural oil produced by your skin, making it an excellent moisturiser and absorbs easily for all skin types. An excellent antioxidant with anti-inflammatory properties containing vitamins A, D, and E.
Organic Argan Oil: This offer two important benefits, adding shine and softness to your beard while moisturising the skin beneath. Rich in Vitamin E making it an excellent moisturiser and skin softener which helping against dry, itchy skin.
Organic Sweet Almond Oil: Known for the exceptional benefits to skin with great anti-inflammatory properties. Moisturises and helps prevents split ends, softens and shines up the beard without a greasy look or feel.
Organic Grapeseed Oil: A very light oil noted for having healing effects for dry, damaged hair. Also found to have anti-inflammatory, acne reductive, and moisture retentive properties on skin.
Also contains: Vitamin E, Mysore Sandalwood Oil.